On Wednesday 22nd January 2020 the University of Rwanda-Huye Campus in partnership with the Sustainable Development Solutions Network in the Great Lakes (SDSN GL) organized a public talk on the Universities' engagement in the implementation of the Sustainable Development Goals (SDGs). The 17 SDGs were adopted by the United Nations member countries in September 2015 and set out ambitious and quantitative goals for 2030 to end extreme poverty, promote economic prosperity, enhance social inclusion, and ensure environmental sustainability, including by curbing human-induced climate change.
The Public talk which was facilitated by Dr. GISARO Ya-BITITI, Senior Lecturer and Focal Person of SDSN at the College of Arts and Social Sciences, attracted a big number of students, staff and researchers from Huye Campus. During the talk, students were challenged to get actively involved and support the implementation of the SDGs starting at their Campus. "When you attend class on time, you are contributing to goal 4:Quality Education, when you report a linking pipe you are contributing to goal 6:Clean water and Sanitation to name but a few" Dr. Gisaro tells Students.
The talk also served as an opportunity to award certificates to about 120 students at Huye Campus who have successfully completed the Massive Online Open Course (MOOC) on Introduction to Sustainable Development in Business. The course was offered by Open University of Mauritius and Commonwealth of Learning facilitated by the SDSN Great Lakes. On behalf of the SDSN Great Lakes, Mr Salomon Nshimiyimana, Network Manager, told participants that the Network intends to run similar online courses that will enable students to know more about SDGs related to their current areas of studies.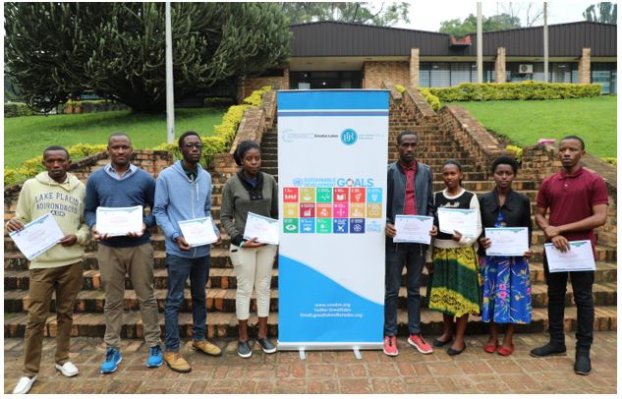 Students who Completed the Online Course on Sustainable Development in Business were awarded Certificates of Completion
The SDSN was mandated by the UN Secretary General in 2012 to mobilize scientific and technical expertise from academia, civil society, and private sector in support of sustainable development problem solving. The SDSN Great Lakes is hosted at the University of Rwanda-College of Business and Economics and currently its members are from Rwanda, Burundi, Uganda, Tanzania, Democratic Republic of Congo and the Republic of Congo.
By Salomon Nshimiyimana
Advisor to Principal,UR-CBE
Edited by HAGABIMANA Eugene PR and community engagement